Top 5 Alexander Technique Benefits for Teachers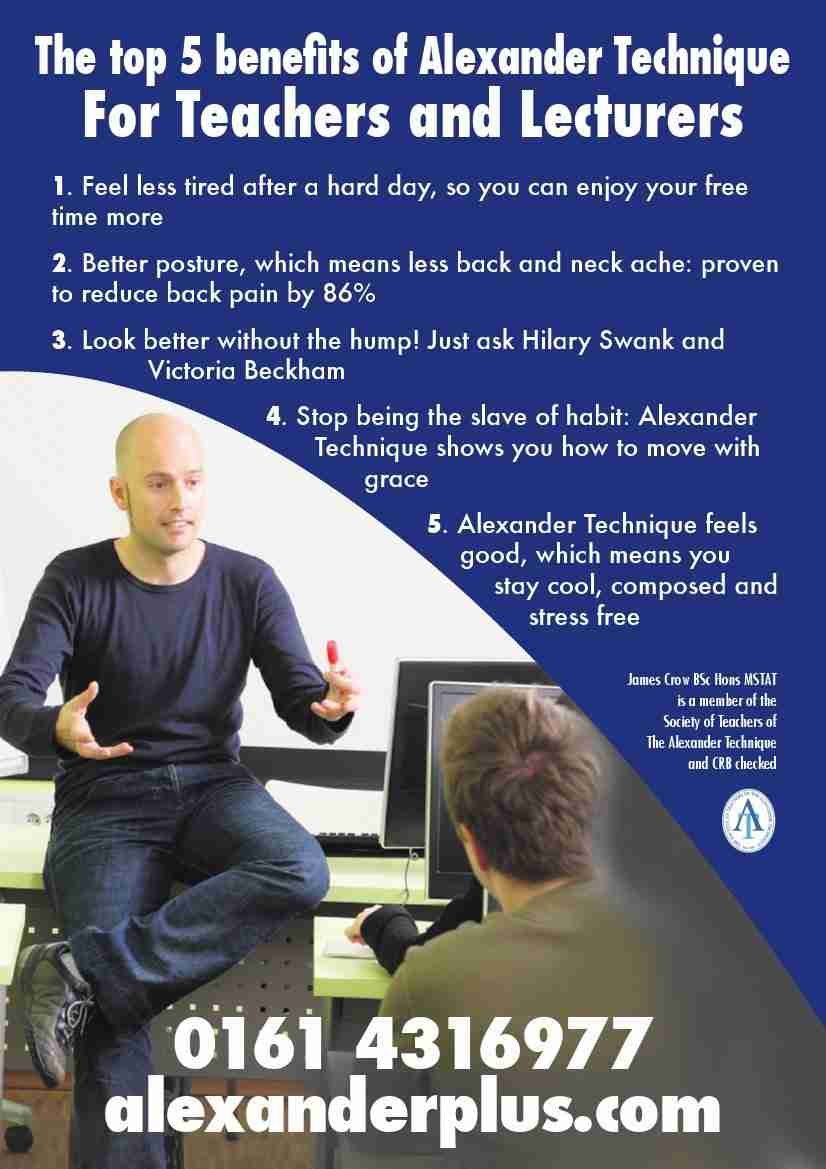 You'd be surprised to know just how many of my clients are teachers and lecturers. There's something about the workload and stress that means Alexander Technique can really help.
Just look at these Alexander Technique benefits:
Feel less tired after a hard day, so you can enjoy your free time more
Better posture, which means less back, neck and arm pain: Proven in an NHS-funded trial to reduce back pain days by 86%
Look better without the hump! Just ask Hilary Swank, Victoria Beckham and Hugh Jackman
Stop being the slave of habit: Alexander Technique shows you how to move with more grace
Alexander Technique feels good, which means you stay cool, composed and stress free – and ready to enjoy life more!
About one fifth of my clients are teachers – be it school, nursery or higher education. Why is it that so many come for Alexander Technique Lessons? Well, if you checked the five benefits on the photo, you'll understand why.
Most teachers complain of back ache, neck pain, stress and tiredness. You know, a lot of this comes from constantly leaning in to attend to pupils, to give them your full attention. Giving your full attention to your pupils leaves no attention for yourself.
One of my teaching methods is to help the teacher learn to be aware of their core – the relationship of the head to the neck and back. And don't worry! There aren't any daft exercises here. It's simply a matter of giving attention to your head and neck to stop all that painful pulling down that spoils your posture and leaves you all hunched-over.
See if you are hunched over right now to read this. I can teach you to sit well and stop all those bad habits. Which means less pain, more energy and a much better posture.
Call me on 0161 4316977 to find out more or get in touch.